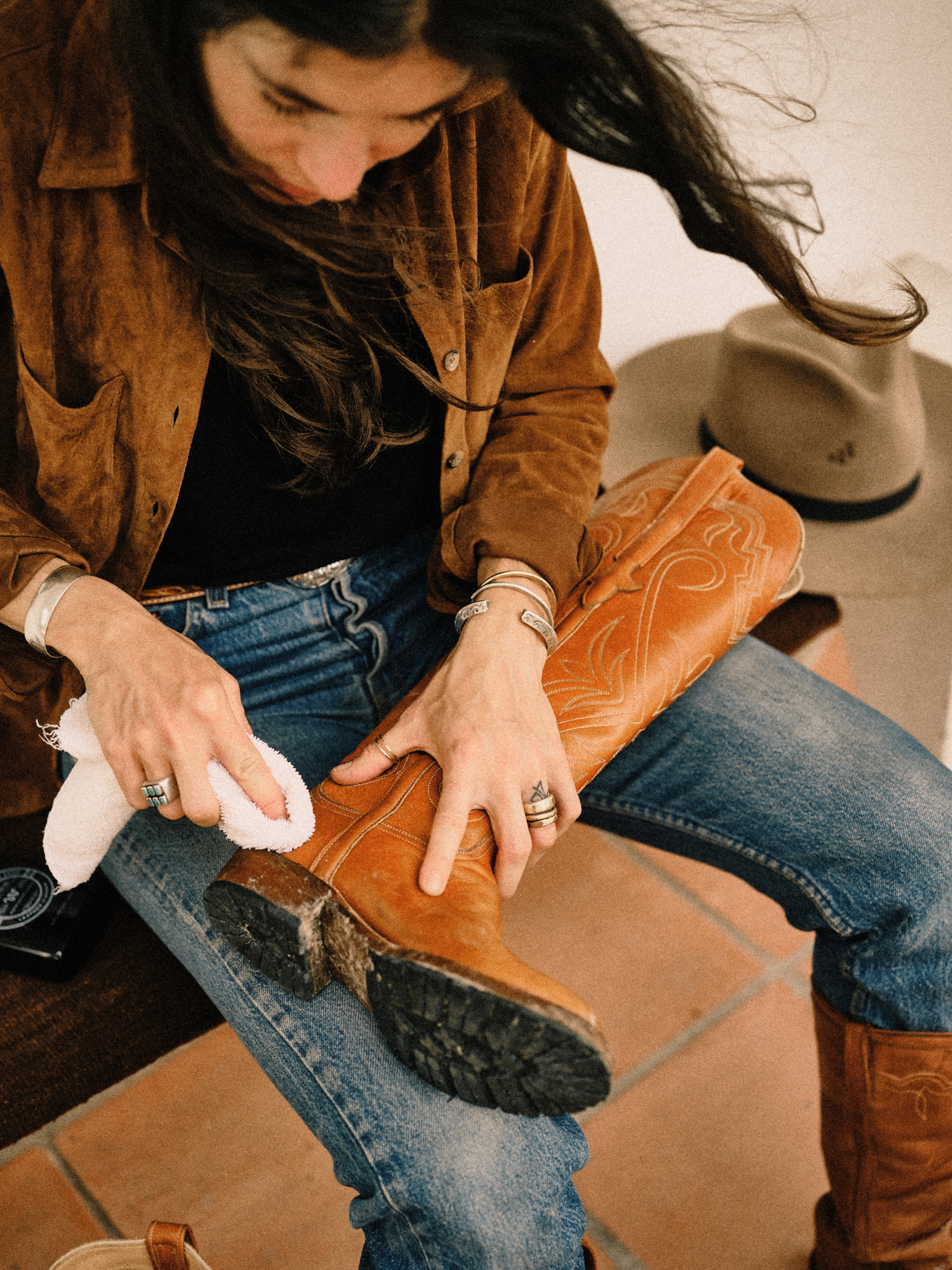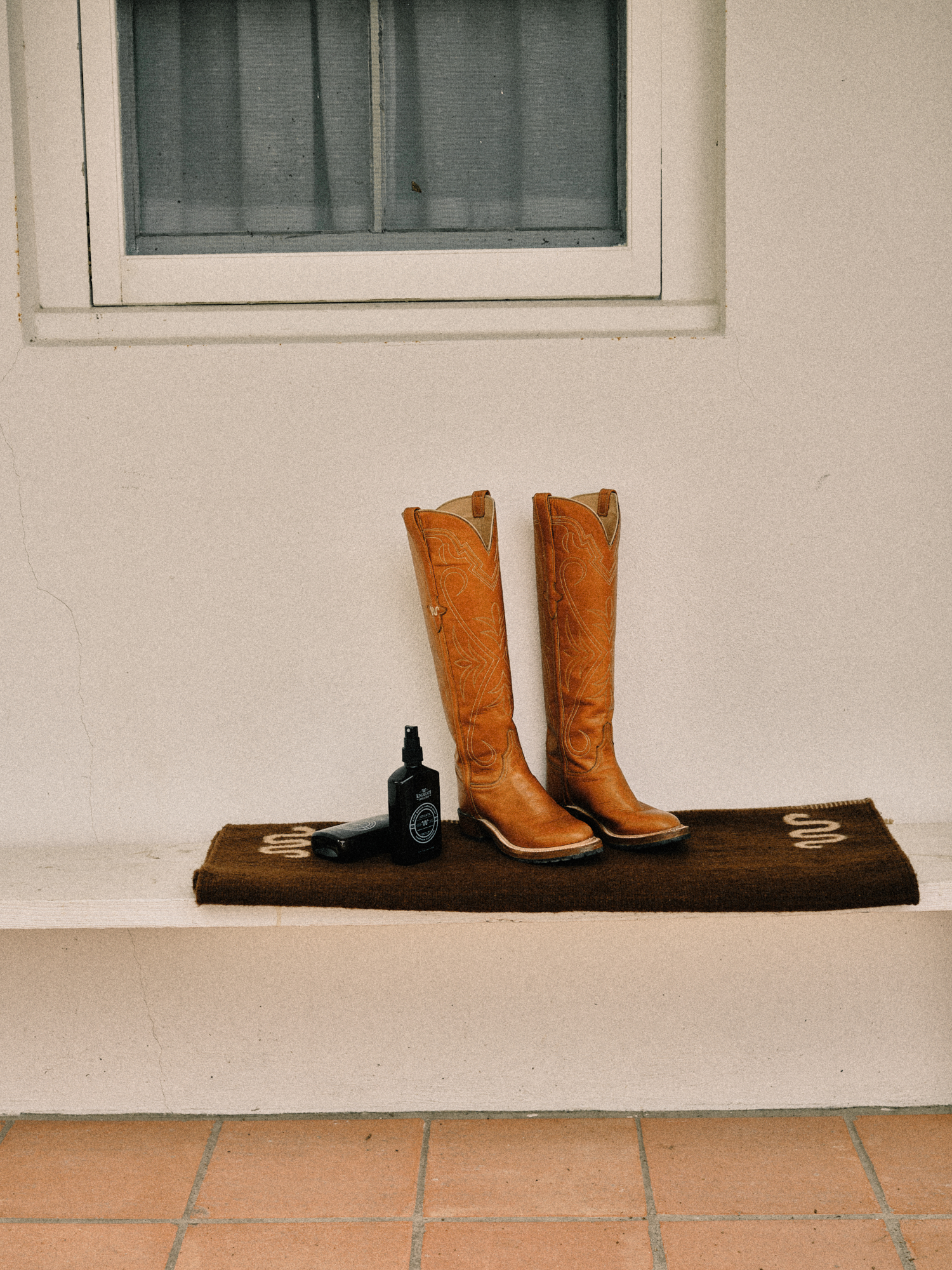 The ranching life offers a unique set of demands, including a dependence on all manner of leather goods. Chief among these, of course, is a functional and comfortable saddle, but the list includes boots, tack, belts, harnesses, and a thousand things more. To maintain these tools and accessories in proper working order, the Saddle Shop offers a complete line of cleaning and conditioning products that draw from over a century and a half of research and practical application in the toughest setting we know, King Ranch.
Our cowboys and ranch hands know the drill, and they know the price of failure, so they follow a weekly regimen, using a soft cloth and our leather cleaner to remove the dust and debris that will plague leather goods over time, giving special attention to drying and chafing at key pressure points. Removing the dirt and grime will allow the leather to breathe, making it more receptive to the conditioning. Once the cleaner is dry, an even application of our conditioner with a soft cloth returns the leather to its original suppleness, restoring the moisture and oils and flexibility that our cowboys demand and you deserve.
Take some advice from those who put these products to the test every day. A few minutes of regular attention can mean a lifetime of service, keeping your leather goods working for you and with you, recording indelibly your days in the saddle or your favorite boots, for many years to come.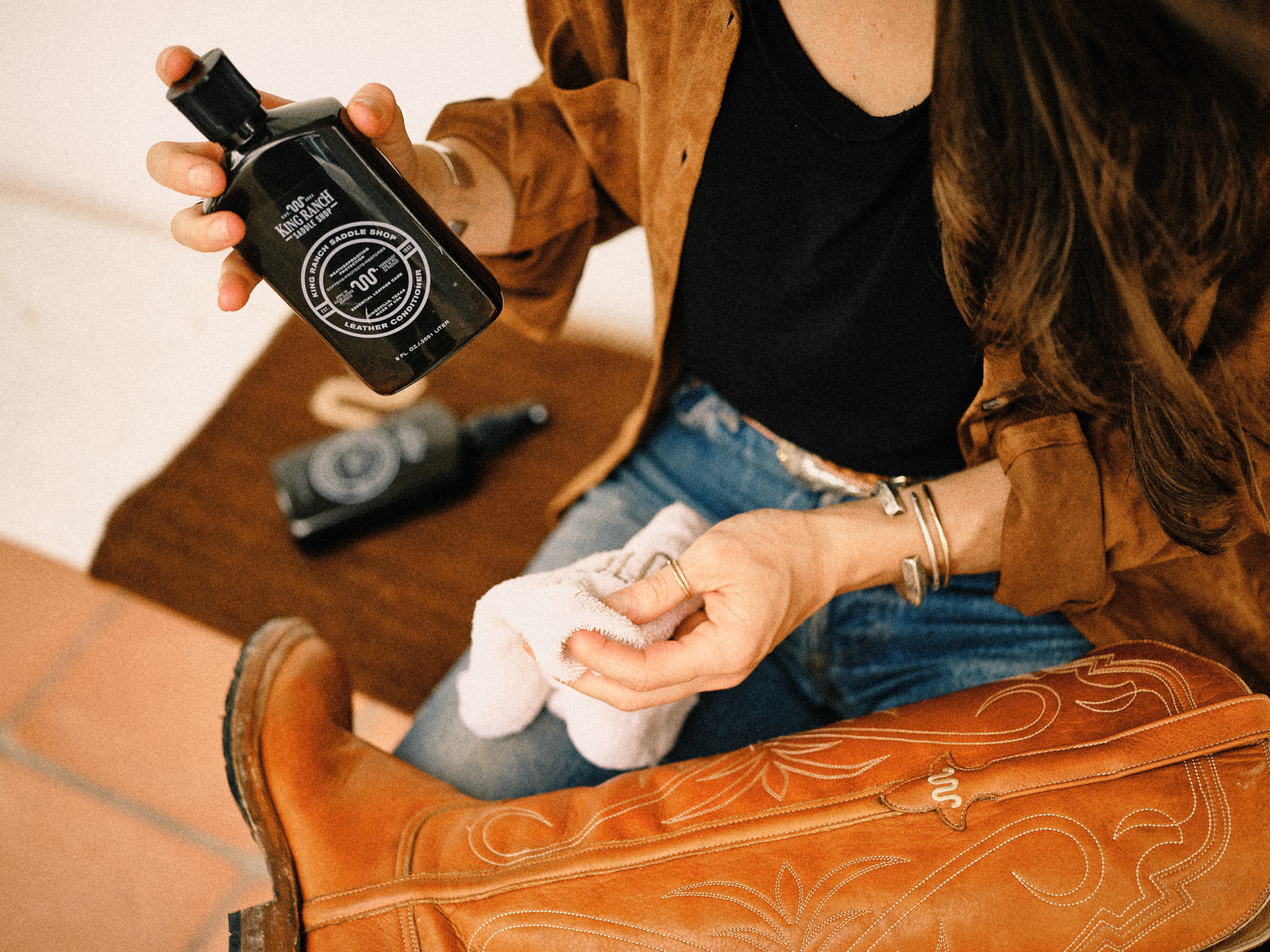 Keeping leather clean and conditioned only takes a few minutes but doing so helps the bag, boot, or leather good last longer. We recommend our King Ranch Leather Cleaner once a week.
Use clean hands when working with leather.
Use a soft cloth and our Leather Cleaner.
Wipe down item with a dry soft cloth to remove any dust particles.
Apply leather cleaner to soft towel and gently apply to leather.
Allow the Cleaner to dry before applying the Leather Conditioner.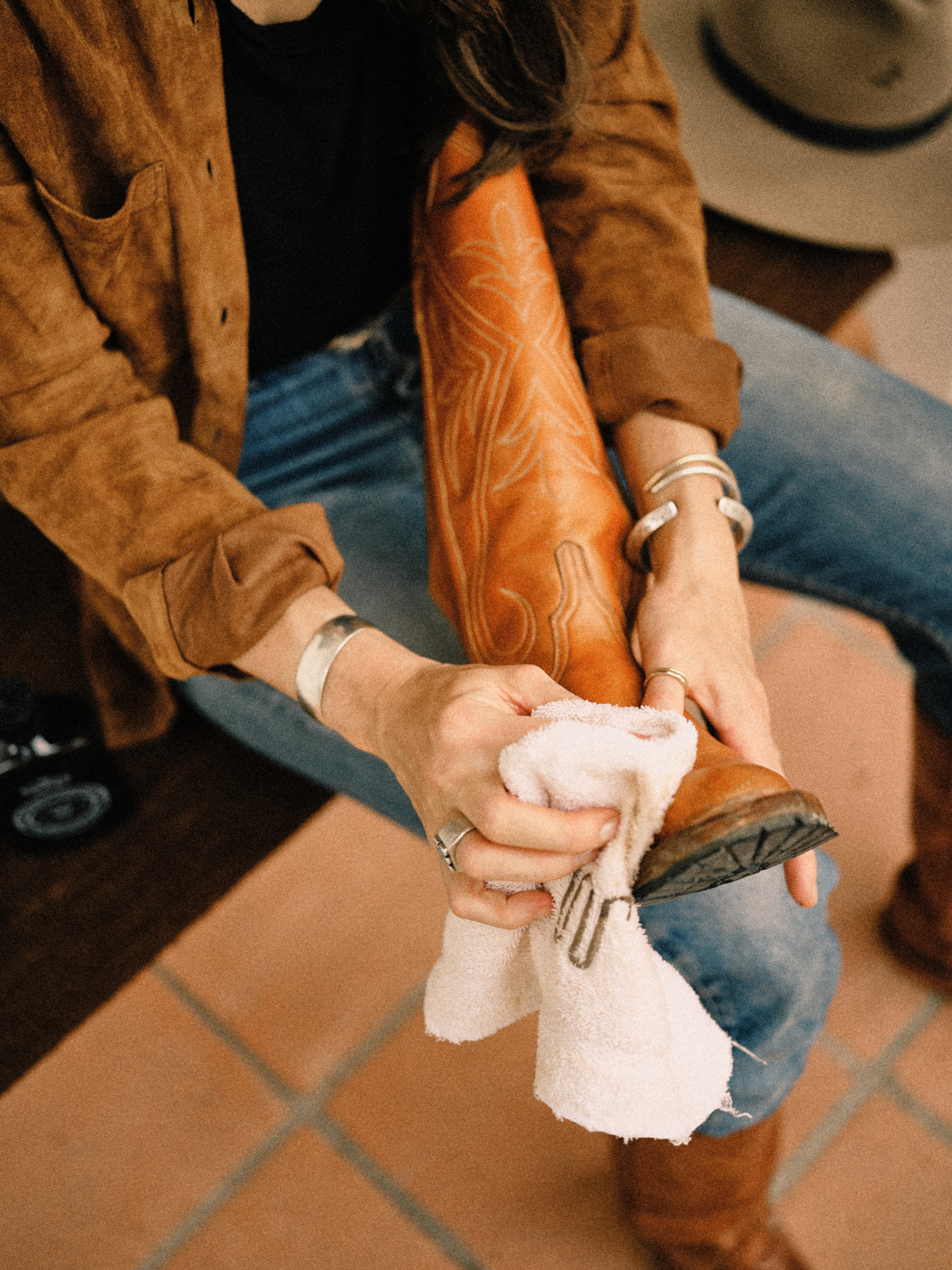 Conditioning leather replaces the oils that have been depleted over time. Use a conditioner that is suitable for your leather. We recommend King Ranch Leather Conditioner.
Use a lint free soft cloth when applying conditioner to leather.
Do not apply directly to leather instead apply to cloth first, make sure to distribute evenly.
Gently rub conditioner onto your leather item until it has been completely covered.
Allow conditioner to dry completely before applying another coat.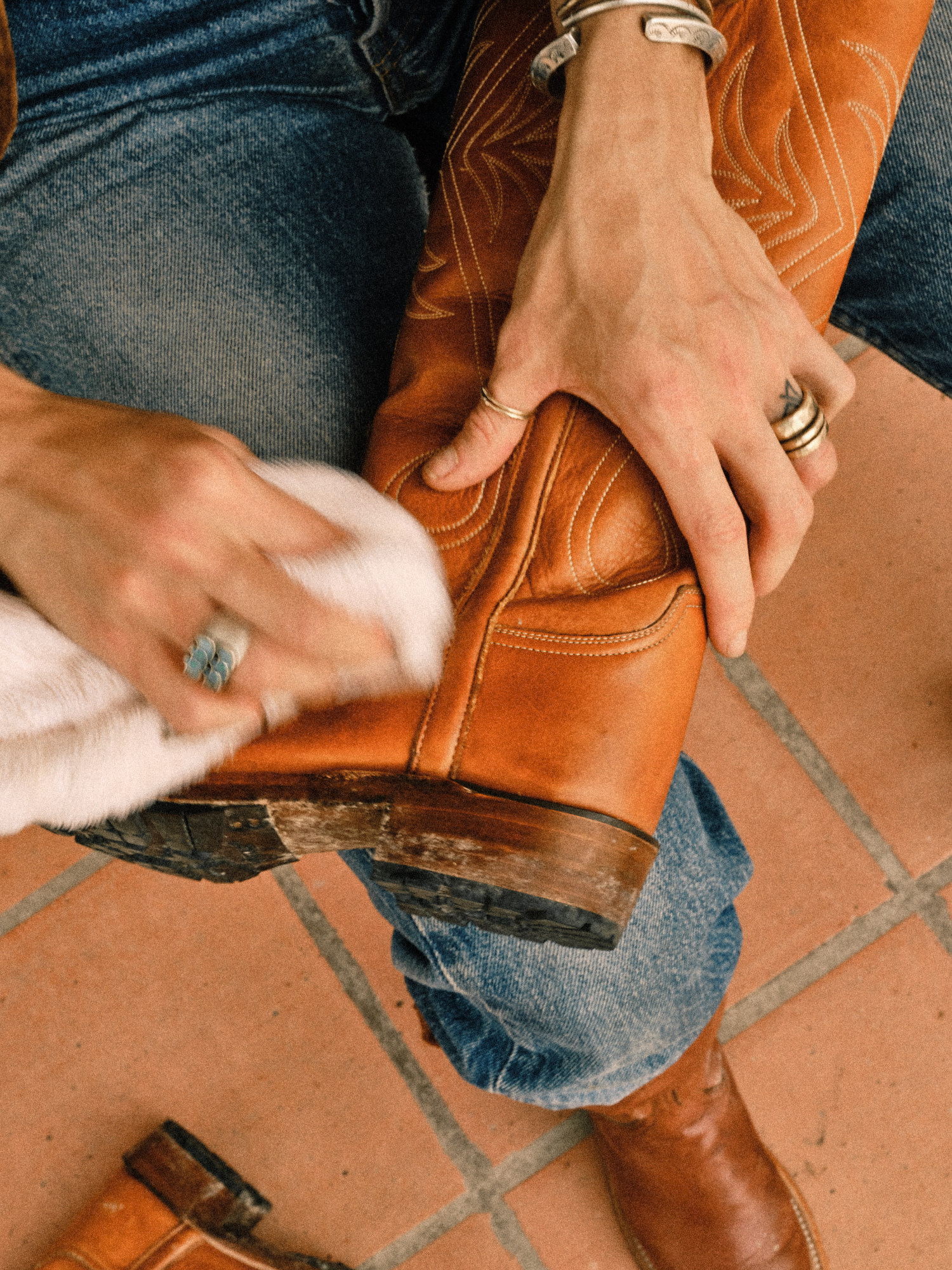 King Ranch Leather Care Set