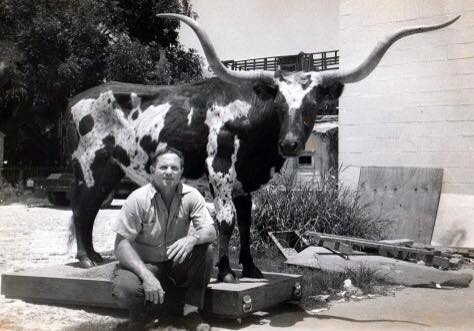 "I have been a hunter my whole life. I have been blessed to get to go out on beautiful ranches, like the pristine King Ranch and admire God's handy work, which I enjoy very much. That alone has been more than enough to continue to inspire me. I get to show my admiration of Gods beauty through the art of Taxidermy and bronzes."
                         -David Hibler
Over the decades, the Hibler family has become a stand-out force in the world of taxidermy and bronze sculptures. Their continued dedication to the craft has produced multiple generations of craftsmen and artisans, devoted to showing their love of nature through their disciplines and hand-hewn work. You'll find their artwork throughout our stores, and hung proudly in homes all over the world. We caught up with David Hibler at their workshop in South Texas and discussed the beginnings and the future of this family legacy.
For more information, visit their website here and shop our selection of bronzes from Hibler here.
David Hibler Q&A
How long has your family been involved in the art of taxidermy and bronze?
Our family has been doing taxidermy since 1960. I began my bronze career in 1982. Now both of my boys have followed in my footsteps making beautiful bronze pieces as well.
What's the most difficult piece you've ever worked on?
Our first elephant that we tackled in the late 1990s was a very big project. It took a lot of engineering to create the form. With my bronzes, my most challenging bronze piece was "Spring Fever," which consisted of three turkeys, one third life-size. It was a nine-month project.
Where do you see your art progressing from here?
In Taxidermy, I would like to continue to provide South Texas with a high-quality place to take their Taxidermy and Meat Processing that will remain dependable. I also hope to continue to produce our work in a timely manner, something I take much pride in as well. Those two businesses continue to grow every year. We have met and established great friendships throughout the years that we are thankful for.
Do you create backstories for each piece?
Because I spend a lot of my time being out in South Texas hunting and observing, so many of our projects simply incorporate what I see in nature.
Do you plan on keeping this in the family for generations to come?
Yes, definitely. I have two boys that are very talented. I humbly say, more talented and capable than me.
What do you find the most challenging about your work?
I am passionate with every piece I work on, and I am a perfectionist as well. I can go back to one project over and over again perfecting every detail. But something that I need to remember is that while always producing my best I also need to remain efficient.
When teaching taxidermy or bronze what is the most rewarding moment?
For me, my most rewarding moments is passing down all that I have learned from my father to my two boys, and seeing them take it to another level.
Any suggestions for someone who may want to explore working in to this style of art?
My suggestion would be, if you choose to get into either field of Taxidermy or bronzes, be prepared to spend a lot of time and effort to perfect your skills. Be patient; It's a long hard journey to perfect those skills, probably will take a lifetime, but the effort is well worth it in the end.
What's your favorite part about working and living in South Texas?
It's getting to go hunting and fishing. A South Texas winter is an exciting time to get out there and make memories through hunting and being amongst wildlife. And a South Texas summer, you truly cannot beat fishing in the bays and gulf. Year round, South Texas is a great place to live for many reasons, but definitely if you enjoy being outdoors.